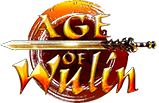 Service Closure Announcement
Dear Xia,

We regret to inform you that the Age of Wulin service is no longer available via Webzen.com from
July 11th, 2017. Publishing rights have been transferred back to Snail Games US where you can still
enjoy the vast and vibrant worlds of Age of Wulin/Wushu.

The Age of Wulin team would like to thank all of our players for the love and support to
Age of Wulin.

We sincerely apologize for the service closure. We will continuously to do our best to provide the
best game service.

Thank you.